Covid-19 Protocols
During this Covid-19 pandemic, your A Caring Heart Home Support Services team members are following all government guidelines and more!  We are taking every precaution to keep our clients safe and secure.  Each team member is dressing in fresh PPE before visiting with clients. To ensure the safety of our clients, our team in participating in COVID testing every 2 weeks.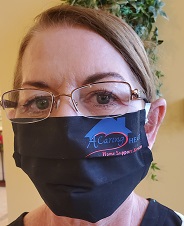 A Caring Heart, Home Support Services
A Barrie and Area company since 2005, we are dedicated to enhancing the quality of life and independence of our clients in the comfort of their own home or care facility. A Caring Heart Home Support Services promotes the health, well-being and independence of the individuals. Our Client focused approach to care recognizes the individual client as a unique person, builds care around their needs and desires, and promotes the strength and abilities of the individual.
Vision and Mission
A Caring Heart Home Support Services achieves its Vision by providing excellence in non-medical health care and home management services in the Barrie area. We strive to promote the inherent worth and dignity of each of our clients while relieving relatives and family members of the overwhelming demands of this responsibility.
Get In Touch with A Caring Heart
If you have any questions, feel free to contact us anytime!